---
Ruth Silver
After six years of architectural training and four years as an avid reader of Iain Sinclair, this essay draws on the inherent links between architecture and storytelling, including how space can be explored through writing and the use of dust as a physical material in order to generate an architecture that exists between both disciplines. That is, an architecture that may exist somewhere between Sinclair's writing and actual, physical space. This paper is a series of extracts from individual pieces of work that I have carried out over the last few years, namely Tale-tellers interrupting tale-tellers, Architecture and storytelling following the work of Iain Sinclair and From dust to dust, cyclical cleaning and self-renewal in the domestic environment. The paper is divided into four short sections.
Preamble discusses the link between making architecture and making stories; Amble is a case study of a walk undertaken in response to reading the work of Iain Sinclair; Post amble: Dishing the dust is an introduction to dust as a useful material and Dust to dust is a conclusion of sorts.
Preamble
There are few architecture libraries in this country without at least one book by Iain Sinclair. Lights Out for the Territory and London Orbital in particular are the two most common Sinclair works you will find in any architecture library. At first glance you might assume that this is because they are both simply books that deal with London as a subject. However, this is not necessarily the case. Like anyone, architects do read novels and other literary works but it would be fair to say that architects are able to enjoy a very specific kind of literature and way of writing.
As an architect and coming from a non-literary background it is interesting to site Sinclair's work among all the other writers who are widely read by architects. As well as examining my own bookshelves and those of my tutors and colleagues, a visit to the RIBA bookshop on Portland Place was in order. Within the thousands of architectural history books, books about individual architects, cities etc. there sits a small shelf, very low down, quite near to the cash register entitled fiction. According to the Royal Institute of British Architects, this is the kind of fiction architects are supposed to be reading.
There sat several works by Sinclair; on this particular visit Lights Out for the Territory, London Orbital, Lud Heat, Downriver and Rodinsky's Room were all in stock. As far as other writers are concerned, they included, Invisible Cities by Italo Calvino, Primo Levi's The Periodic Table, One Hundred Years of Solitude by Gabriel Garcia Marquez, The Fountainhead by Ayn Rand, Life, A User's Manual and W both by Georges Perec, Tracy Chevalier's Girl With A Pearl Earring, and Patrick Suskind's Perfume. The theory shelves began to interfere with my gaze, leading me to The Fall of Public Man, Richard Sennet, Illuminations and the Arcades project by Walter Benjamin, The Practice of Everyday Life, Michel de Certeau and The Poetics of Space, Gaston Bachelard.
All of these works, regardless of whether fiction or non-fiction, deal with the nature of a story in motion, whether this be the autobiographical story of someone's life progressing, the story of a city growing or the story of a journey through a city. I would like to propose that Lights Out for the Territory and London Orbital appear on an architect's reading list not only because they are about London, but because they are about constructing a story that is based on movement; a narrative that weaves in and out from a building to a street, motorway to river, fact to fiction, past to present.
It is the way that these texts are constructed just as much as their subject matter that attracts the eye of the architect. Architects delight in making sense of the spaces and sequences that are described to them. It is this notion of an endlessly changing narrative that appeals to architects because that is exactly what an architect will try do anyway when designing the spatial sequence through a building. An architect considers studying the pace of a building, steps to speed you up, steps to slow you down or a window forcing you to stop and stare for a few moments.
Iain Sinclair's work also embraces these themes. Whether it is through walking, through conversation or through prose, his words provide the perfect accompaniment to the architect's sketchbook and by reading his texts further sketches and narratives may be generated.
Historically, architects led somewhat solitary lives, depending on the assistance of one or two apprentices, producing pencil drawings day in day out. One final set of drawings may take months to complete and similarly the actual buildings took years, if not decades (in some cases over a century) to be completed. Today the pace of architecture is different, a drawing can be produced in a day or less, emailed to site and construction can begin the next day if necessary. Architecture itself is getting faster. Architectural practices are both enjoying this change in pace and the structure of the profession. They are now being employed to do work of a more immediate nature. They write, make films, design exhibitions or temporary sets and buildings. The realm of what is considered to occupy architecture is changing. But in some ways this is hardly surprising, for architecture is ultimately about people, how they use buildings and subsequently the narratives that they generate through this movement. This could be interpreted as the story that accompanies the building proposal. These stories are extremely similar to those that are discussed in works such as The Practice of Everyday Life by de Certeau or One Way Street by Walter Benjamin and in a recent work by architects, The Unknown City: Contesting Architecture and Social Space, the group of architects known as "Strangely Familiar" discuss the move from the city being thought of as an object to a moving object:
Architecture offers itself to us as an object, and the city as the ultimate technical object: the fantastical concentration of wealth, power, blood and tears crystallized in office towers, roads, houses, blocks, and open spaces. The appearance of the urban is then seemingly as a thing, as a finite set of spaces -– it is alternatively the machine, the artefact, the body, the experiment, the artwork, the reflective mirror, the clothing, the labyrinth, and all the other metaphorical understandings by which people have sought to comprehend its objectival character.
But architecture is no object. At an interdisciplinary nexus, as an intrinsic element of everyday life, architecture is not composed of isolated and monumental objects. Architecture is ambient and atmospheric, and architecture allows us to tell stories –- it is both backdrop to and inspiration for theoretical and poetic musings of all kinds, from love to philosophy, theology to Marxism.[1]
Architects are faced with the problem of tackling the city, but similarly they are also trusted to work with the city. In Lights Out for the Territory, Sinclair instructs us "walking is the best way to explore and exploit the city; the changes; shifts, breaks in the cloud helmet, movement of light on water. Drifting purposefully is the recommended mode, trampling asphalted earth in alert reverie, allowing the fiction of an underlying plot to reveal itself."[2] Through walking the city we collect experience with every step we take, we uncover a 'plot' to the city and we are able to link the city together based on a series of different walks. Every walk is like a new chapter to an unwritten book, especially for those who have never reached certain zones or areas of a city. In Liquid City, Walking the Tidal Thames, Sinclair writes, "London is whatever can be reached in a one-hour walk. The rest is fictional."[3] Could this be a lesson to architects to explore the nature of their city and to pay more attention to their sites, before putting pen to paper, or even mouse to monitor?
In 2001, I was able to interview Iain Sinclair at his home in Hackney. He revealed to me, "To some extent, the thing I'm describing is in competition with architects, it's who's going to re-imagine the city? I feel very often that with architects, they see with this one building or area they've been commissioned to work with, they may see it terms of a local piece of the London landscape, but they don't see it in terms of London as a totality."[4] I was then faced with a question, in order to become a better designer; must I also say goodbye to public transport and become a walker?
Amble
In Dark Lanthorns – Rodinsky's A to Z, Sinclair and Petit re-walk some of the walks carried out by David Rodinsky. One of the walks covered territory very close to a site that I had begun work on for a project, therefore I decided that I would also re-walk the walk as executed by Sinclair and Petit and Rodinsky before them.
Liverpool Street Station to Regents Park, 16 January 2001
I had not been to London for some time. How much about London can then be learnt from one walk? In this case more than you might imagine. Departing from Liverpool Street Station in fantastic light, I headed straight for Shoreditch Church. Knowing already that this was a definite destination for David Rodinsky and therefore was by default a definite destination for Iain Sinclair, it was a mere formality for myself. The church spire loomed in the background, but before even reaching it, my mind was cast back ten years previously, a sign for the Bethnal Green Museum of Childhood; I had been here before. Faint memories of the tales I was told about my parents' childhood while wandering through the museum, carefully mapped Shoreditch High Street in my mind, not strictly within the context of London, but sufficiently enough for me to work out where I was.
As I followed directions from my book, the need for looking at them was minimal. I am not from London, but I felt that I was going the right way. As I wound down Old Street I made my first of many detours. 'Rufus Street' flashed before my eyes. Anywhere bearing my own nickname must be investigated and swiftly. I snapped a photograph for evidence and found myself in Hoxton Square.
Winding through City Road and Tabernacle Street, I took yet more detours. I had missed the Richard Serra sculpture at Liverpool Street, by setting off from the other entrance and having partly lost my bearings. I ventured back over there and joined Aldersgate again from London Wall.
St. Paul's Cathedral has never interested me that much as a landmark. I have also never been able to place it very successfully within the Central London skyline. Being so big, it is difficult to judge exactly where it is because you can see it from everywhere. I am far more intrigued with the likes of Postman's Park and how it relates to Little Britain, where the sudden change in mood is incredible. Paternoster is heavy; it feels as though thick cloud permanently covers it, whereas Little Britain is light and airy, even with the presence of Smithfields. People work on a different timescale here. Time is dictated by meat and poultry, but no one seems to mind.
I follow on from here to visit the place where I once lived for a very short while. I stand and reminisce while I watch a couple moving into the same block unloading their belongings. From here I head straight for the Barbican, I venture in, not with the intention of visiting any exhibitions or collecting leaflets, but to try and imagine living here. It is a different world. I look up at the sky and this isn't London. This isn't anywhere; there is nothing but sky and one building, no other context.
I almost begin another detour; or rather I am drawn away from Holborn up towards Goswell Road. Perhaps because I once lived up that way too, or perhaps because I am disorientated from the Barbican. I stop and re-trace my tracks and move swiftly over Holborn Viaduct and on towards Holborn.
I detour officially around to the British Museum. I notice the place where the Wimpy Bar used to be, which I used to be taken to as a young child. Every time we sat at the same table and had the same order, even then I was a creature of habit. The shop sells tacky souvenirs now. I continue my windings through the backstreets of Tottenham Court Road.
Suddenly Regent's Park opens out in front of me. With an almost endless vista, I feel as though I am in Paris. Finally London Zoo. A bizarre final destination, or perhaps not mine, rather Mr. Rodinsky. I feel as though I have covered so many sides to London, the zoo is merely extra amusement.
I leave the park swiftly. It is bitterly cold, and I begin a fresh new walk. I head for Camden.
I hadn't realised that Camden was so close. I hadn't realised London was so close together either.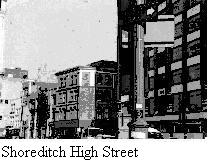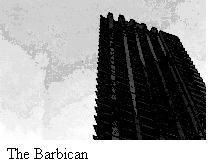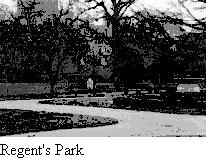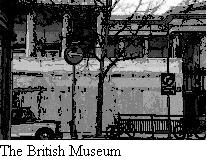 By re-walking ground that had previously been walked over and recorded by other writers, I became fascinated with the concepts that wherever you walk you intersect with someone else's recollections or someone else's stories. I began searching for new material with which to work and what could be the physical material that might embody the essence of these weaving stories and intertwining narratives? What single material could contain such information?
One afternoon, I was walking down Euston Road, where the new hospital was under construction (now approaching completion), it was a windy day and dust from the building was billowing into the street and beyond. I stopped and stared. Tiny pieces of the building were escaping and being sent all over London and beyond. Millions of minuscule messengers were spreading their stories wherever they flew.
Throughout the last two years I have become obsessed with dust and its potential as a useful material that may also trap stories within it. Simply through walking the city we leave a trail of dust behind us –- our own personal cloud of dust. This holds vital information about who we are, where we have been and where we may travel.
Post amble: Dishing the dust
Dust thou art, and unto dust thou shalt return[6]
Once, not so long ago, dust constituted the finest thing the human eye could see. In the form of gold dust or pollen, as light filaments that covered the skin, or as individual particles that spun in the sunlight, dust was the most minuscule thing people encountered.
For centuries dust has captivated the attention of philosophers, scientists, not to mention the countless housekeepers desperate to eradicate dust from their homes. Today, even as the world of scientific research continues to discover protons, neutrons, electrons, quarks and particles even more minute, there still remains a definite admiration for the stuff from which both ourselves and our planet first came.
My relationship with dust goes back many years. As a child, I remember being told the story of a whole population of people who lived on a grain of dust, who fought to save their planet from destruction by the cleaning lady armed with a feather duster. Even in contemporary fiction, the subject of dust has been well documented. For children, dust is somehow magical and mysterious. For adults, dust presents more complex ideas; the fear that they have neglected their home, the worry that their child is exposed to a higher level of dirt and the damage this may cause, or even the thought of burial or cremation.
I smooth my skirt and bend closer. My face is drawn down to a worn corner of the carpet where only islands of wool remain on a sea of lattice threads. Here there are a hundred islands not of delight but of darkness. Only on some of the islands through the thick wool foliage something glitters and beckons –- tiny grits of glass which miraculously survived my last hoovering a fortnight ago, now the glittering fragments have been cast up on the islands. Marooned. Marooned. All is flotsam and jetsam here. I ask myself what it would be like to sail on that darkness and visit those greyly haunted isles.
Others are there before me. Dustballs sail like galleons on the dry sea. From one end of the hall carpet to the other is one hundred and twenty-eight days for an individual dust particle travelling steadily by day and by night. A dustball however can do the journey in less than a week.[7]
Although in some respects, seeming more along the lines of a traditional fairy tale and indeed dust is like an element that would be used in a fairy tale, Irwin uses dust within the home as a means to unlock the bitter unhappiness of a lonely housewife. Dust is somehow extraordinary and yet it is one of the most mundane and basic of materials known to exist. With mankind came dust and so it will follow us to our death and beyond.
People made dust whatever they did. Human bodies themselves were dust mills. People made dust when they rubbed their hands together or ground food with their teeth (especially their molars, whose etymological origin is 'mola', millstone). Out of human bodies came materials that over time would turn to dust: wax from the ears; mucus from the nose; phlegm, saliva and vomit from the mouth; dandruff from the hair. From the anus came waste, which along with animal manure was plowed into the earth and made into soil. There it dried and became dust. The body itself was fodder for worms and provided manure for the earth. There was nothing on earth so big that it might not be made small.[8]
As literal dust machines, Amato presents us with the cyclical nature of dust production and emphasises that real dust as it were, has very little to do with household waste or dirt, dust is a by-product of human life.
However, for homeowners the physical presence of dust in the home has serious connotations. It can suggest a home that is left unattended, that is not looked after properly and often the worst being a home that is considered to be dirty. You might say that by being tidy we curate our possessions, therefore we might then propose that by cleaning we curate dirt. Through cleaning, space is defined as dirt is shifted from one place to another. For example a scrubbed floor tile, next to one that is left untouched immediately creates a threshold, where we are more inclined to want to walk on the clean tile, rather than the dirty one. Like any matter, dirt cannot be created or destroyed it is merely re-located. Through occupation and habitation we are in fact constantly locating and re-locating dirt. No other writer has dealt so appropriately with the concept of dirt than the anthropologist Mary Douglas.
As we know it, dirt is essentially disorder. There is no such thing as absolute dirt: it exists in the eye of the beholder. If we shun dirt, it is not because of craven fear, still less dread of holy terror. Nor do our ideas about disease account for the range of our behaviour in cleaning or avoiding dirt. Dirt offends against order. Eliminating it is not a negative movement, but a positive effort to reorganise the environment.[9]
The desire to re-organise, to tidy up our environment is extremely apt concerning my proposal for a new type of inhabitation which would occur within the dust house -– a prototype I have been working on recently. Rather than relying on simple removal of dust from the home, the dust house re-uses and re-locates dust in surprising places, using surprising methods. Something that was once solid and whole turns to dust, which in turn is re-made into something whole, it is a continual process of renewal.
One of the main reasons that such a process of occupation fused with cleaning will be made possible is as a result of our constantly changing approach towards hygiene. Little over a century ago, levels of acceptable cleanliness within homes bore no resemblance to the state of our homes today. London itself was a city riddled with disease, with open sewers running through the streets and up into the floorboards of people's houses.
The very houses of London are built upon refuse. Discarded and forgotten objects, left among old foundations, help to support the weight of the modern city, so that beneath our feet are copper brooches and crucibles, leather shoes and lead tokens, belts and buckles, broken pottery and sandals and figurines, tools and gloves, jars and pieces of bone, shoes and oyster shells, knives and toys, locks and candlesticks, coins and combs, plates and pipes, a child's ball and a pilgrims amulet, all spreading their silent ministry through the earth.[10]
Despite the threat of disease, dirt was a very lucrative business, as Peter Ackroyd has described:
In the nineteenth century, the history of the city refuse became part of the history of city finance. The dust-heap in Dickens's Our Mutual Friend, modelled upon a real and ever more offensive pile off the King's Cross Road, was believed to contain buried treasure and had already made a fortune for its owner."[11]
Today we can no longer depend on the financial benefits of actually selling dirt, therefore literal harvesting and storing of domestic dust, seems even more appropriate than ever.
With less industrial pollution in the atmosphere, less disease, a dramatic increase in good personal hygiene as well as an increase in domestic cleanliness, it should come as no surprise that in fact the dust and dirt still present within our homes today is in fact remarkably clean. Coupled with great advancement in technology from items such as washing machines and vacuum cleaners, not to mention the wonderful dusting gadgets and mops, it has never been so easy to sustain high levels of cleanliness within the home. However, as long as we continue to inhabit our homes in the way that we do; if we continue to sleep, move around and eat, there is nothing we can do to eliminate dust for good. Despite the fact that dirt levels have decreased dramatically and will continue to do so, the dust will not. How can it when over ninety percent of dust found in homes today is merely dead skin, our very own personal trace within our homes.
If we return to the writing of Iain Sinclair, the way his texts are constructed bear some resemblance to the way our homes accumulate layer upon layer of dust. In Dark Lanthorns, Rodinsky's A to Z, Sinclair writes:
I suppose that's the nature of London. Endlessly intersecting narratives. Tale-tellers interrupting tale-tellers. Lives that fade into other lives. Cardboard boxes stuffed full of photographs. Manuscripts with merciless annotations. Maps with fictional journeys superimposed. Films that diverge from the purity of the original intention. Mistranscribed recordings. We had what we had, now it was time to assemble the images, to improvise."[12]
This quote is my main inspiration for much of my work as an architect. It is difficult to illustrate any building proposal or prototype in a paper such as this, what follows therefore is a description of the dust house -– a new way of living and cleaning in central London.
The dust house is sited deep in the heart of the Inns of Court in London. The house occupies a small site in between two existing office buildings on New Square, Lincoln's Inn. After construction the house would complete the East façade of the square.
Lincoln's Inn has a complex history regarding cleaning and domestic chores. In the early sixteenth century domestic servants were banned from living in the Inn and had strict hours when duties were supposed to be carried out, in a somewhat undercover manner, with as little disruption as possible. In the seventeenth century the air-drying of laundry was also banned in Lincoln's Inn and the whole of the surrounding area.[13] It is not known whether either of the bans has ever been officially lifted, although fewer people actually live in Lincoln's Inn today.
The house has several functions. First and foremost it is the private residence of the cleaner-curator of the dust house. As cleaner they are responsible for all the day-to-day chores within the home, as curator they are responsible for displaying a permanently clean and tidy residence. Secondly the house acts as a research facility or prototype for the investigation of dust management and levels of dust production on a domestic scale. Finally the house is also the site of an undercover laundry facility serving the Inns of Court, which also provides a steady income of laundry dust for use in the home.
The use of the house itself is the means by which dust is collected and re-located. The dust house harvests dust, which is collected, sorted and stored. This is achieved by daily occupation and use of certain systems within the house. The furniture acts almost as agricultural machinery, sweeping, sanding, and scraping dust from all possible crevices. Each piece of furniture makes its own decorative product from dust. This responds to the purist notion that ornamentation, which is often regarded as a measure of wealth, considered to be over-priced and in bad taste, may be replaced at free will, no cost and long before the item actually wears out. The house also makes its own insulation, which is hoarded in the dusty attic throughout the life of the house. Laundry dust and lint from the tumble dryer is also salvaged and is pinned to the rafters in the private living quarters to increase insulation levels.
The physical dimensions of the house and the furniture within it respond to the actions of cleaning. For example a table that requires regular dusting has a surface at the perfect height for comfortable dusting, reducing the aches and pains associated with household chores.
The aim of the home is to provide a comfortable cleaning environment and both a practical use for dust, (the production of which is unavoidable) The house also creates a humorous, decorative use for dust so that we may no longer subscribe to the notion that decoration need be expensive and that each piece will eventually crumble to dust and become material for the next item. The house also attempts to distinguish that there is great difference between a home that is considered dirty and a home that is merely dusty. It is also important to note that a dusty home, is in fact a home, which is rich in stories.
Dust to dust
Though the dust house remains a prototype, one day I hope that this is not the case, but for the time being, it must remain a fiction. There are however many things I have learnt throughout the course of its evolution, most of which stem from my reading of Sinclair throughout the last few years.
As an architect, I am interested in what people leave behind for me to work with. If a client purchases a site with a curious boundary wall with a tiny spy hole in it, I am inclined to keep it and build this into the design. There is already so much demolition within the building industry today, often because it is both easier and cheaper to start from scratch, rather than work with the existing fabric. But isn't the existing fabric the most exciting part? This is where the strange triangular shaped plots emerge, where houses and buildings must be squeezed into the most unlikely places. This is Sinclair's world; these are the places he finds in his excursions. Why create more builders' dust than is strictly necessary? We are already a nation of waste, without adding to this problem and the need for more skips to cart away tonnes of rubble, prior to the construction process even commencing.
Simply by carrying out our daily lives, we subscribe to a cycle of renewal. Every time we inhale, we swallow dust, as we exhale we return it to where it first came from. What we choose to dispose of, to shun, we will eventually consume. Dust is the only material that follows us truly from our first breath to our last and beyond. Why shouldn't buildings do the same?
In order to conclude, I propose that architects should start to scrutinize the city in a similar vain to Iain Sinclair. Without looking carefully at what we already have, how can we even begin to contribute further, knowing that ultimately, someday whatever we build will eventually crumble to dust?
My favourite building in London is the Soane House in Lincoln's Inn Fields. A magnificent example of the slow evolution of one house, its collections and the growth into three houses joined together so elegantly. It is also interesting to note that for some of his building proposals, Sir John Soane drew his un-built buildings already in ruins and crumbling to dust.
My task now is to set about finding suitable sites for a similar, almost parasitical process of construction and growth. Sites that are left behind and posses a certain unique quality and character.
In order to do so, I have only one option. It is the work of Sinclair that tells me that walking is the only way I will ever find them.
Endnotes
[1] The Unknown City, Contesting Architecture and Social Space, Iain Borden, Joe Kerr, Jane Rendell (eds.) The MIT Press, London, 2002, page 3.
[2] Lights Out for the Territory, Iain Sinclair, Granta Publications, London, 1998, page 4.
[3] Liquid City, Marc Atkins & Iain Sinclair, Reaktion Books Ltd. London, 1999, page 40.
[4] Interview with Iain Sinclair at his home in Hackney, April 5, 2001
[5] Genesis iii v 19
[6] Dust, Joseph Amato, University of California Press, London, 2001, p
[7] The limits of Vision, Robert Irwin, Dedalus, 1993, p 16
[8] Dust, Joseph Amato, p 17
[9] Mary Douglas Collected Works Volume II Purity and Danger, Mary Douglas, Routledge, London, 2003, p 2
[10] London The Biography, Peter Ackroyd, Vintage, 2001, p 339
[11] ibid, p 340
[12] Dark Lanthorns, Rodinsky's A to Z, Iain Sinclair, Goldmark, Uppingham, 1999, page 44.
[13] Source: http://www.online-law.co.uk/bar/lincolns/history/
To Cite This Article:
Ruth Silver, 'Telling tales about architects'. Literary London: Interdisciplinary Studies in the Representation of London, Volume 3 Number 2 (September 2005). Online at http://www.literarylondon.org/london-journal/september2005/silver.html. Accessed on [date of access]