---
John O'Donoghue, Sectioned: A Life Interrupted (London: John Murray, 2009), pp. 304, hbk., ISBN-10: 1848540124, ISBN-13: 978-1848540125, £16.99
Suneel Mehmi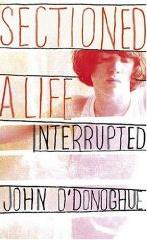 Coincidentally, at the time of writing, I find that John O'Donoghue, author of Sectioned: A Life Interrupted, now lectures in Creative Writing at the University of Westminster, where I am a PhD student. While I have not had the pleasure of attending his lectures, I have enjoyed reading his impressive first novel. Sectioned is a picaresque novel that also fits into the confessional mode long established by such works as Sylvia Plath's The Bell Jar. The novel ably explores the personal suffering of mental illness, the nature of life and society in institutionalised settings in Ireland and London, and the effects of government intervention in the lives of patients. The novel is made up of an ever-changing ensemble of characters and locations. As the narrator writes,
This is what life is, I thought. A series of scenes, played out across a stage where the back-cloth and the flats, the props and the lighting rig, are all taken down again and put up again in some other distant place, new performers quickly assembled, old parts recast.
The novel begins in a remarkable manner, with the abusive sexual initiation of the narrator, John, at a prayer meeting, the primal scene. To repress John's burgeoning sexuality and exorcise the devil from him, the vicar has grabbed John's groin. Under this medieval treatment, John ejaculates, feels the presence of the Lord and vomits bile. The ritual over, he finds himself still 'in the grip of the devil'. The scene has been set for the subsequent story: a Christian quest for salvation in the London of our times that will take place despite the hellishness and betrayals of cultural institutions dedicated to spiritual healing.
The next chapter begins with John being subjected to a potentially-life threatening electro-shock therapy at the age of sixteen. He wants to do well in his O-levels and has some potential to 'make good', but he is suffering from severe depression and psychosis. We learn of the sad events that have brought him to this pass: the traumatic death of his father when he was fourteen followed by the grief-induced madness of and neglect by his mother, his guilt at having to choose to go into foster care and the break-up what remains of his family. And then his mother dies in Ireland, thus precipitating his collapse and failure at his studies.
Through the 1970s and 1980s, John continues to struggle with guilt and mourning, the betrayals of life and women in London, and further interruptions to his young life. He is sectioned and enters four different mental institutions in and around the borders of the city: Claybury, Friern, Banstead and Whittington hospitals. Here, we find him unable to live up to independence and manhood and to the cold, Thatcherite expectations of society: to conform, work a nine-to-five, buy a house and become a provider. Because of forces beyond his control, John moves self-destructively, angrily and guiltily through life, ensuring his failure at menial jobs he does not want and dooming his relations with women. We see him squatting in derelict buildings, always surrounded by strangers, always losing his friends, enduring heartbreak and suffering all the way, having to 'start over', over and over again. Dependency, despondency and a sense of inferiority characterise his days, and through his eyes we experience the harshness of a working-class life and witness the inadequacies and changes of the mental health system that becomes less and less welfare-driven and increasingly emphasises accepting personal responsibility for one's problems.
Due to a psychotic episode, John eventually finds himself in HMP Pentonville. He has finally hit rock bottom. We remain unsure of what or whom to blame his failure on –- a tendency to depression, self-destruction, the Thatcherite era or other circumstances. Yet from these depths John is finally able, at the age of thirty, to rescue himself through his love of literature, the one thing that had kept him going throughout his life. He now begins again in academia with his faith restored. He takes control of his life and even hopes. He knows that, one day, in heaven, he will return to his mother.
Sectioned is a well-written and brave debut, and John O'Donoghue must be considered a promising novelist. His work is a moving and intriguing expression of experience which, perhaps because of its candour and determination to cling to life, transcends the novel's Christian framework. The style is unadorned, but elegant and the sentences create an irresistible rhythm, with some echoes of Beckett. Throughout there is an immediacy and liveliness. Despite the serious nature of the theme and the tragic vicissitudes John undergoes, the book also contains humour and wit. Although the plot follows a 'light at the end of the tunnel' trajectory, there is something about Sectioned which challenges the reader to reassess the nine-to-five lifestyle, society's expectations of men, and views of madness and psychiatry and to question whether a culture and its healers and leaders may be more insane than its individuals. The novel also offers a view of a remarkable Londoner and of a London one does not often encounter. In a number of ways, Sectioned reshapes the imaginary borders of the city and its inhabitants. I would not hesitate to recommend it.
To Cite This Article:
Suneel Mehmi, 'Review: John O'Donoghue Sectioned: A Life Interrupted'. Literary London: Interdisciplinary Studies in the Representation of London', Volume 7 Number 2 (September 2009). Online at http://www.literarylondon.org/london-journal/september2009/mehmi2.html. Accessed on [date of access]